This is the Kris sword of the Mindanao region of the Philippines. It is also locally known in areas around mindanao as Kalis or Sundang depending on the dialect. It is a weapon that is unique to this region of Southeast Asia, and is considered an evolution of the more dagger like indonesian keris dagger. The Kris is an iconic blade of the islamic Moro warriors of Mindanao's islands.

It's a very common symbol used in Eskrima and Arnis (The fighing arts of the phillippines) school insignias because of how bravely the moros fought against spanish invaders centuries ago. Although Eskrima and Arnis have very strong european sword combat influences and many argue that moden Arnis and Eskrima differ extremely from Moro Silat, the Kris is used as a symbol of respect; a nod to our forefathers, if you will.

The design of the blade itself, although associated with Muslims in Southeast Asia, is actually steeped in an older Pre-Islamic tradition. You see, the waves of the blade symbolize the Naga; a mythical serpentine dragon that was worshipped in the aministic days of Malay history. Here are some examples of the Kris

This image is reduced by 62%, click it to view full size.
This image is reduced by 32%, click it to view full size.

As you can see, Kris can vary between being long and thin to being shorter and more broad bladed. Some blades are completely straight while others can be completely waved. The examples I have shown you are known as Kalis Seko or "Five-waved"/"Half-waved Kris". Each tribe and region of mindanao had their preference and characteristic features. A lot of collectors of Kris antiques can tell the difference just by looking at one, for example whether a certain Kris is from the Yakan tribe or if it's of Sulu or manguindanao origin.

You may also have noticed that the blade extends towards the handle to form a guard. This serves a dual purpose to protect the hand, and to demonstrate artistic ability. This guard extention, called the gangya, has one long side and one short side. Many historians say that the short side is a stylized representation of the Elephant God Ganesha, which can be explained because the phillippines and much of southeast asia was once part of India's Majapahit Empire, and may have influenced the culture and the art. The long part of the gangyais debated on still. Many believe they're talismanic engravings and some believe them to represent the tail end of the Naga.

Let's take a closer look so you can draw your own conclusions:

This image is reduced by 32%, click it to view full size.

And even more so you can appreciate the diversity in design. The pommels of the hilts can represent anything from a Horse's hoof to a kakatua or rooster head.

There are two kakatua pommels in the following pic. Can you spot them?



This image is reduced by 13%, click it to view full size.
Here are more pics of various antique Kris from another forum I frequent:
Quote:
Interesting find: Straight bladed kris with bolo-type tip. Still appears to be double-edged.

Beautiful horse hoof pommel. very nice hilt wrappings

Very interesting engravings. They're pretty shallow for engravings on kris, but I've seen similar example on one or two other kris, mostly ones that look like they would be used in battle and not decoratve junggayan type kris.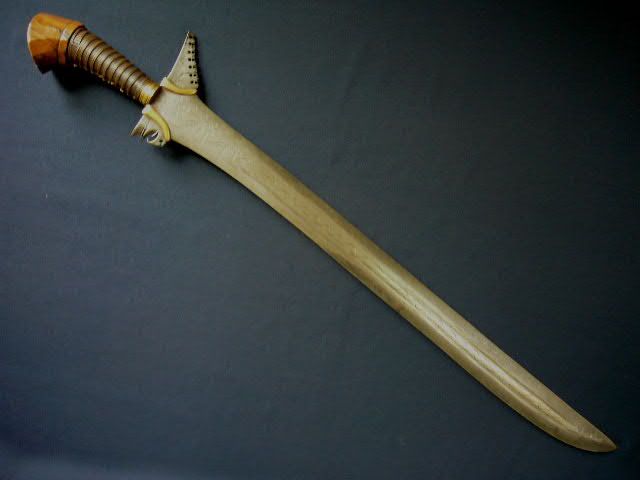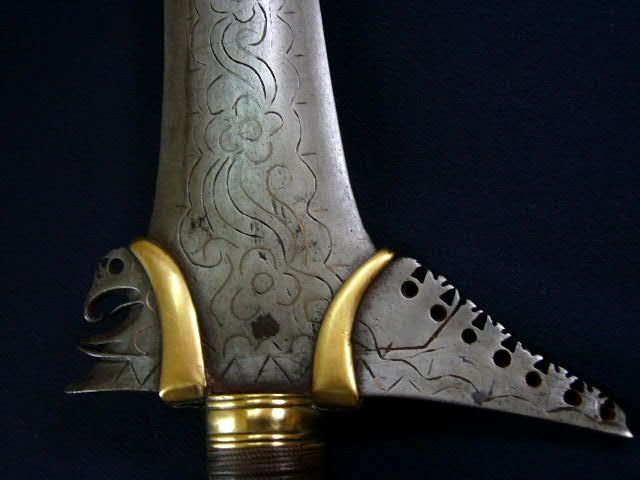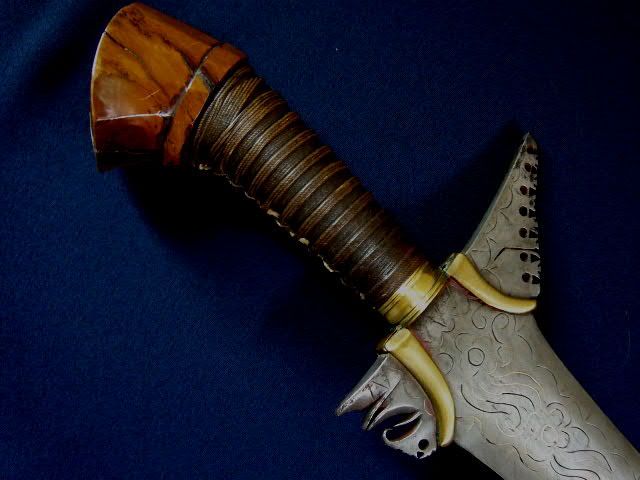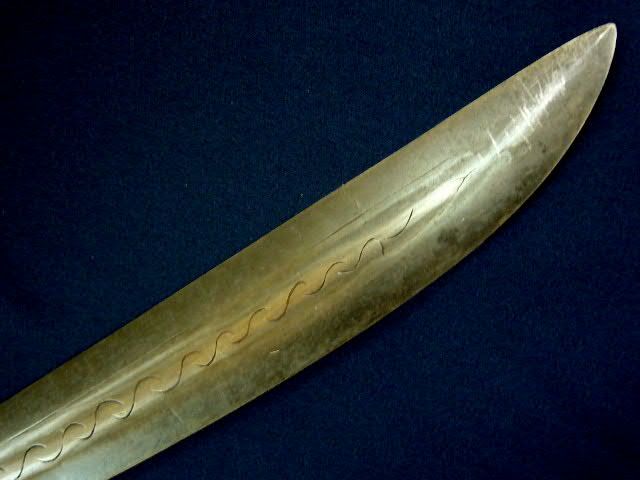 Quote:
Kris with gorgeous twistcore fullers: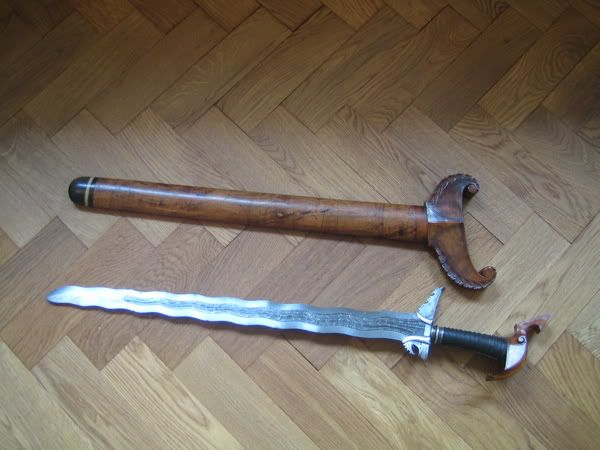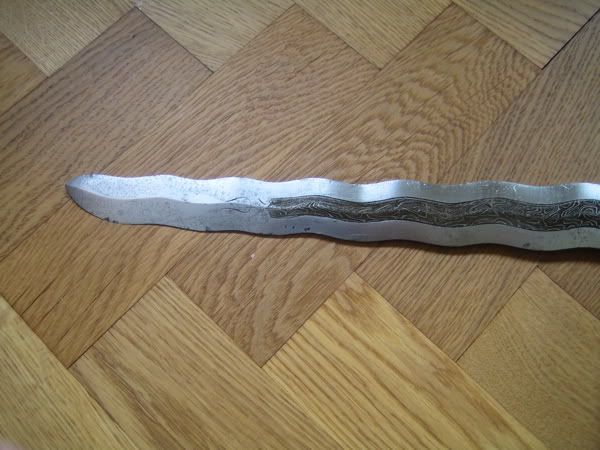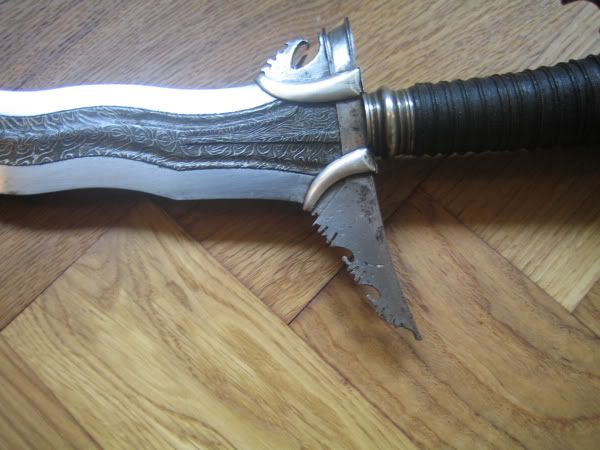 Quote:
Some of my favorite weapons are the Moro Kris. Here are a few examples. Some kris have wavy blades while others are straight. Seems to be more of an owner's preference. All, even the very high end pieces are razor sharp and deadly weapons. All featured here are handmade laminated blades. Usual overall length about 31"

Scabbards are somewhat rare because the Moro usually dropped them when going into battle so they would not get in the way.

The first is a battle kris. Standard scabbard. This was built for fighting.
This image is reduced by 13%, click it to view full size.

This is a heirloom kris that is featured in Robert Cato's book, "Moro Swords." Note the engraving on the blade and ivory pommel. This was probably made for a wealthy noble.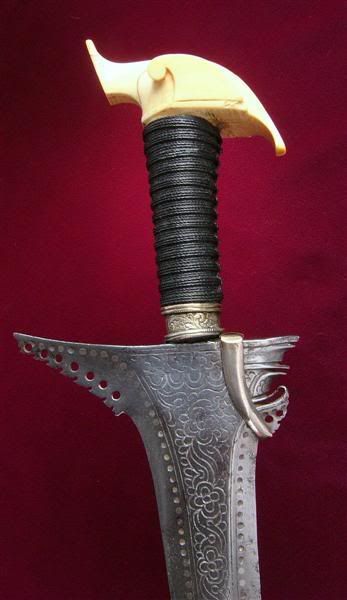 This is a Datu piece. Tribal chief. Note the large danagan ivory pommel.


Lastly a very good twistcore inlaid with gold. Probably made for a Sultan or king.


Hope that you enjoy. I love these things!
Quote:
Here is a kakatua silver hilt on a kris I have. This style hilt is quite rare and called a Jungayyan. I am looking for one in ivory though the silver is said to be the rarest. Have one in horn also if you want to see more pictures.

There is some question as to whether it should look like a kakatua with the blade up or down. Here it is both ways. This may be a little better representation. It is about 7 inches long.

Here it is right side up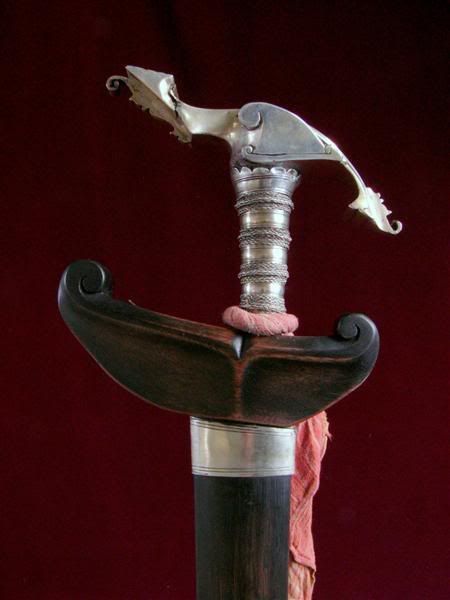 So you don't get a crick in your neck I turned this upside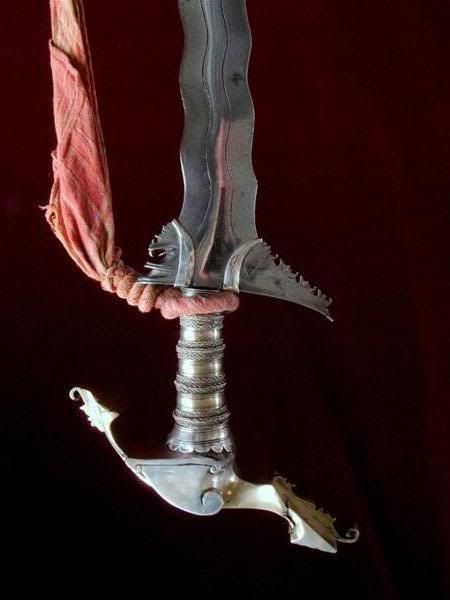 Here is a picture of the overall



This image is reduced by 13%, click it to view full size.
Quote:
Absolutely. BUT all Moro swords are razor sharp, laminated blades, even and especially the ceremonial pieces.

Here is one that has THE sweetest balance. Well done, no nonsense. I call it the "Hitman," because I think it belonged to a bodyguard or someone who did not care about frills. Just wanted a good, solid slasher. This type pommel would not let it slip from your hand, but it also would not get in your way.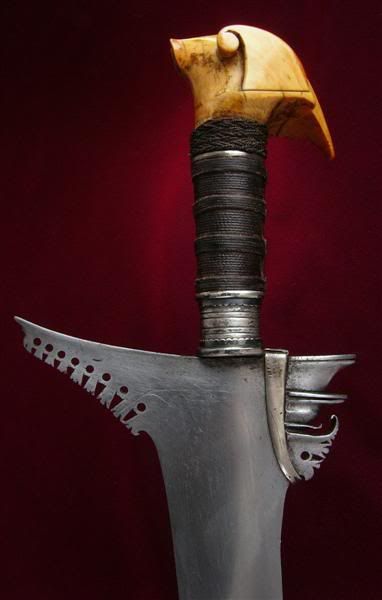 Quality shaping, file and casting work are excellent, but not overdone. A blade for a skilled craftsman who knew how to use it.